DIY or Buy: Day-Of Emergency Kit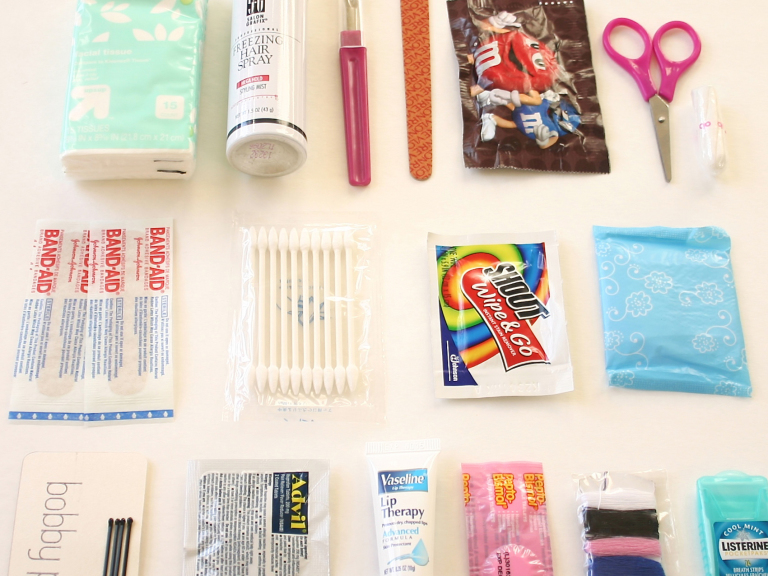 Whether you buy one or make your own, here's a list of essential wedding day items no bride should be without!
While we hope you don't have any emergencies on your day, it's always better to be safe than sorry. We've come up a list of all those just-in-case items to make sure your dream wedding goes off without a hitch. The matron or maid of honor should pack them in a tote bag and stash it in a safe but easy-to-access place during the wedding reception. If you're not the DIY type, we've got one already made for you.
DIY
If you're planning on making your own emergency kit, here's a list of essential (and some optional) items to pack:
Aspirin (or pain reliever of choice)

Band-Aids

Bottle of water

Breath mints/spray
Cash (because you never know)
Chalk (to cover up any last-minute smudges or smears on your wedding dress)
Comb/brush
Corsage pins

Dental floss/toothpicks

Eyedrops

Extra earring backs
Hairpins/ponytail holder

Hair spray
Hand towelettes

Hem tape

Makeup (for touch-ups)
Matches

Mini sewing kit

Mirror
Nail file
Perfume
Safety pins

Scotch tape

Small folding scissors

Smelling salts (we don't expect anyone to faint, but it has been known to happen)

Sole Serum (a numbing cream that makes wearing heels easier)
Spot remover

Static-cling spray

Straws (so you can stay hydrated without messing up your lipstick)

Tampons/sanitary napkins
Tissues

Tweezers
Optional DIY Items
Granola bars or other easy-to-carry snacks

Krazy Glue (for nail fixes, shoe heels, decorations, even jewels)

Sunblock (if you'll be outdoors)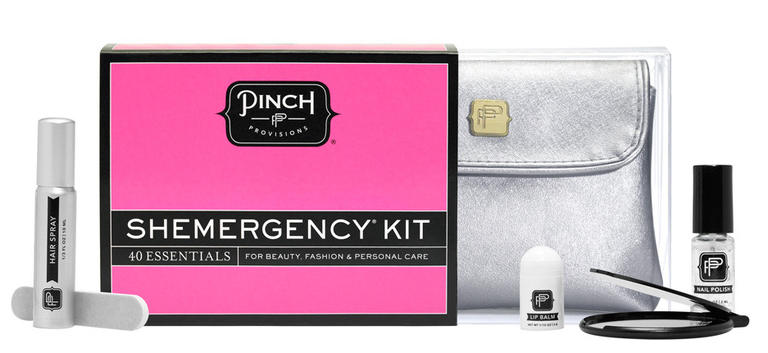 Buy
If you're too busy to make your own emergency kit (and we don't blame you), consider buying a prepackaged one like the Kit by Pinch Provisions. This handy pouch is a steal at $35 and contains 40 different products to keep you looking—and feeling—fresh on your wedding day. The best part? Everything is travel size, so you can also take it on your honeymoon. If you really love it, give it to your engaged friends as a fun and practical shower gift.